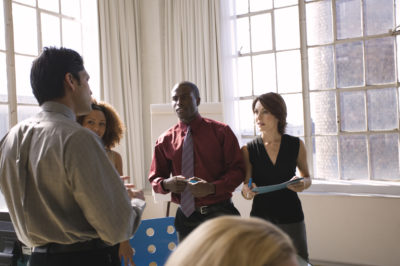 Last month's newsletter introduced three new terms: instructional strategy, instruction method, and instructional tactics.
An instructional strategy can be thought of as an overall plan of experiences that will help learners acquire verbal information, establish cognitive strategy, or develop intellectual skills, motor skills, or new attitudes.
Various instructional methods will be included in the instructional strategy. These include lectures, discussions, case studies, demonstrations, role plays, simulations, and group exercises.
In addition to the overall instructional strategy and methods, there are also instructional tactics. Tactics are the ways in which the instructional methods are implemented, and can be viewed as approaches and activities that are used during a learning program to ensure that learning occurs.
It also provided some general rules and principles that should be followed when creating the overall strategy of a learning program and making decisions about the use of instructional methods and tactics. Provided below are a few examples of each.
Instructional methods are matched to the comfort level and preferences of the learners to encourage participation
A broad array of instructional methods are used to create a balanced program
Learners' existing knowledge is activated to help link new knowledge and skills to existing knowledge
Examples and non-examples are used to explain concepts and principles
This month's newsletter introduces principles that should be followed when using different instructional methods. They are: lectures, discussions, case studies, demonstrations, role plays, and group exercises.
Instructional Method Specific Principles
Lectures are limited in duration to about 15-20 minutes
Lectures are used when a large amount of information needs to be communicated and limited learner involvement is required
Discussions are properly managed to allow equitable opportunities for learners to participate
The discussion focuses on topics that are relevant to the program
The discussion facilitates the sharing of multiple perspectives with respect for all participants even if their position is a minority or divergent opinion
The discussion stimulates higher order thinking on the part of the learners and extends their current knowledge
The case study calls for learners to solve an authentic problem that requires them to extend their thinking
The case study focuses on the application of knowledge rather than on the acquisition of facts or principles
The demonstration shows how a task is performed in accordance with documented procedures
The demonstration shows and highlights the correct standard for optimal performance of the task
The demonstration is divided into segments that can be repeated as required
The role play or simulation requires learners to practice skills that are authentic to those they will use on the job
The role play environment is perceived by the learners as a safe place to practice the new skills
Group exercises are used to promote teamwork and collaboration
Group exercises are used when the benefits of discussion are useful, but a single group is too large
Group exercises are used to facilitate the sharing of perspectives, and to expose learners to a variety of different approaches and interpretations
Group exercises are monitored to ensure there is an equal opportunity to participate
In closing, this blog post has introduced some principles that should be followed when employing instructional methods such as lectures, demonstrations, and group exercises to name a few.
For a learning program to achieve the desired learning outcomes, instructional methods and tactics must be used to facilitate learning toward defined goals. If learning doesn't occur, and job performance doesn't improve, the training is not a good use of people's time, training budget, and other resources.